Deputy Prime Minister Vu Duc Dam has approved the education and training ministry's plan to upgrade the website tiengvietonline.com.vn, meant for teaching of the mother tongue to the Vietnamese disapora.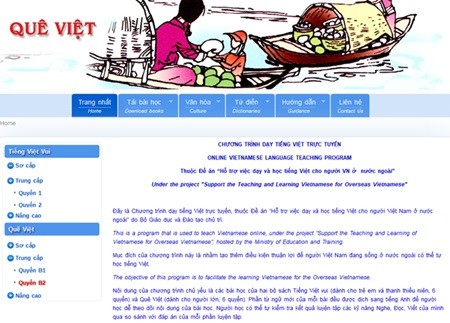 The display of website tiengvietonline.com.vn teaching mother tongue for Vietnamese overseas. — Photo vietnamplus.vn
Dam said the upgrade work would meet the increasing demand for learning of the mother tongue among the Vietnamese diaspora.
He also asked the ministry to finish the compilation of the project entitled "Boosting online teaching of mother tongue for Vietnamese overseas" and submit it to the government as soon as possible.
The Deputy PM's approval came after the ministry proposed to upgrade the website, instead of the compilation and implementation of the project.
The website's upgrade work will be implemented simultaneously with the project's compilation and implementation under Dam's order.
The ministry recently launched two sets of bilingual Vietnamese-English textbooks to help the Vietnamese diaspora, both children and adults, learn the mother tongue via the website.
There are six textbooks in each set. Learners can easily download the two sets for self-learning.