Vietnamese students have been flocking to developed countries in search of better education and chances to develop their talents. But the trend is also putting the country at risk of a brain drain as many grads choose not to return.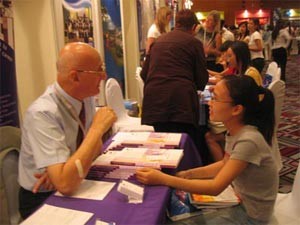 A Vietnamese student in a conference on overseas study

Due to the nation's obsolete and inadequate education system, more and more students are being sent by their parents to study overseas, mainly in business administration, information technology, tourism or foreign languages.

Over the past four years, the number of Vietnamese students studying in the U.S. has increased 10 percent a year on average. Australia is also a popular destination, attracting over 10,000 Vietnamese students last year.

Most students say they are drawn to developed countries for they provide better education conditions, "a less stressful curriculum, an escape from family control and freedom to do what one wants," said one.

Parents express their hopes for a brighter future for their next generation. For most, an overseas degree represents a "reliable passport" to better employment and promotion compared to domestic graduates.

So families pour their resources into their children's education and unknowingly become easy prey for many dubious overseas-study consultants while at the same time contributing to a Viet Nam brain drain phenomenon.

Overseas-study consultants have sprouted up like mushrooms locally but their quality is often questionable. Some elaborate overseas-study programs end dumping their clientele in unknown schools then leave them to fend for themselves.

According to the HCMC Department of Education and Training, some 2,000 overseas-study centers are now operating here but the city still has no concrete, comprehensive regulations governing them.

Brain drain: Viet Nam's overseas students not returning

According to the annual "Open Door 2007" report of the Institute of International Education (IIE), Viet Nam is one of 20 countries with the highest number of students studying in the U.S.

Reports from local banks indicate that each month about US$40 million is transferred overseas as tuition fees and living expenses for Vietnamese studying overseas, a figure could well help build-up the nation's own education infrastructure.

Moreover, noted IIE Viet Nam Director Mark Ashwill, the number of graduates staying overseas after their studies has increased considerably as many are given apprenticeships in their host countries or other more lucrative options overseas.

The trend may have a silver lining though. At first, overseas studies may disadvantage the Viet Nam's labor pool. But it can also provide ideal environments for Vietnamese students to practice their skills before coming back to make even greater contributions then they would if they were fresh out of school.

Top priority should be given to creating a good local working environment to lure more graduates back, said Tran Dai Nghia High School Principal Nguyen Bac Dung.