Intel Vietnam Co. Ltd and the Ho Chi Minh City Department of Education and Training (DOET) organized on March 26, an affiliate International Science and Engineering Fair (ISEF) to select two of the best research projects for ISEF 2011 in Los Angeles.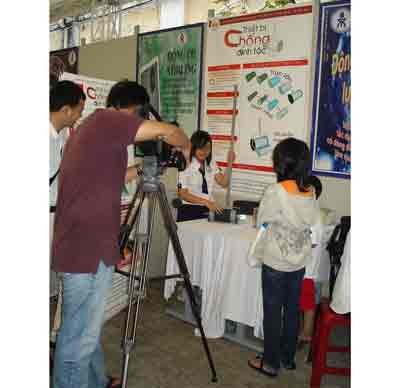 A student talks about her project to tackle a scam by motorbike repair shops, where they scatter nail like objects on the streets to increase customers for fixing their flat tires (Photo: U. Phuong)
This Intel science talent search encourages pre-college students to explore new and innovative ideas and develop solutions for many global challenges.
Forty six research projects were submitted for the affiliate ISEF in Hochiminh City this year. Projects came from Tran Dai Nghia High School, Le Hong Phong High School, Nguyen Thi Minh Khai High School, Practice High School of Pedagogic University, Ngoi Sao High School and Binh Tri Dong A Secondary School.
About 30 projects were chosen as exhibits from the Tran Dai Nghia High School. These projects covered a wide range of disciplines from mathematics, physics and biology to astronomy, computer science, social and behavioral science.
In addition to the affiliate ISEF in Ho Chi Minh City, Intel Vietnam also collaborated with DOET in Hue and Quang Tri to organize similar events there. Ha Thuc Tien and Pham Phuoc Long, students from the Hue High School have already won tickets for ISEF 2011 in Los Angeles for their project "Measuring height and angle in space with flat mirror system".
Once the students are selected in Ho Chi Minh City, they will join Tien and Long from Hue, to participate in the forthcoming pre-college research competition in America at the Intel Science and Engineering Fair where over 1,500 young people will be taking part from 50 countries around the world.  
As the world's largest and most prestigious pre-college science fair, and the only global science competition for students of grades 9-12, the Intel International Science and Engineering Fair, a program of the Society for Science & the Public, encourages students to tackle challenging scientific questions and solve the problems of tomorrow.

In 2010, the competition comprised of 1,610 young scientists from 59 countries.  In addition to the three top prizes, the Intel Foundation awarded $8,000 to each of the 19 "Best Category" winners and also provided $1,000 grants to the winners' respective schools and the affiliated fairs they represented.
More than 600 additional awards and prizes were provided by dozens of other corporate, academic, government and science-based sponsors for their groundbreaking work. Four Vietnamese students are attending ISEF, with projects in areas of environment, biochemistry and mathematics. Their projects were appreciated for their high feasibility and creativity.
Intel International Science and Engineering Fair finalists are selected annually from more than 550 affiliated fairs around the world. Each affiliated fair can send its top two individual projects and one team project to the competition. Finalists' projects tackle challenging scientific questions that address some of today's most pressing global issues.