Vietnamese students won excellently five medals at the 2014 International Physics Olympiad in Kazakhstan, including three gold and two silver medals, reported by the Educational Testing and Quality Assessment Department under Ministry of Education and Training.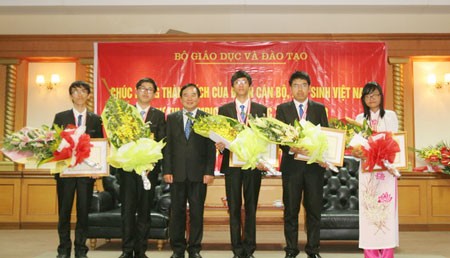 Vietnamese students at the 2013 International Physics Olympiad (Photo:SGGP)
With a great achievement, Vietnam delegation was ranked fifth position after China, Taiwan (China), Korea and Thailand.
This is considered as the highest achievement that Vietnamese students get in the International Physics Olympiad.
This year's contest attracted participation of 383 high school students from 84 countries and territories.
Three gold medals went to Cao Ngoc Thai, twelfth grader  from Phan Boi Chau High School in Nghe An; Do Thi Bich Hue, 12th  grader from High School of the University of Natural Science in Ha Noi; Vu Thanh Trung Nam, 11th grader from Amsterdam High School in Ha Noi.
Two silver medals belonged to Dao Phuong Khoi, 12th grader from High School of the University of Natural Science in Ho Chi Minh City and Nguyen Tuan Anh, 12th grader from Nang Khieu High school.
Vietnam delegation will arrive in Noi Bai International Airport on July 22.
In the related educational news, the opening ceremony of the 46th International Chemistry Olympiad will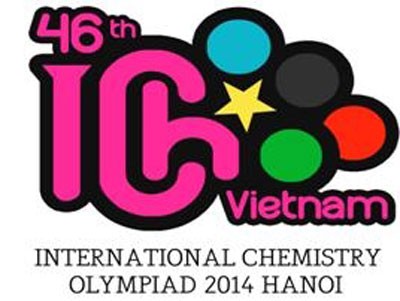 The logo of the 46th International Chemistry Olympiad in Ha Noi
 be hosted in Ha Noi with participation of 77 international delegations from 77 countries and territories accompanied with two observer countries.
Vietnam's delegation with four staffs and four students, which was led by Nguyen Quoc Chinh, a lecturer of Ho Chi Minh City National University, registered to take part in the 46th International Chemistry Olympiad.
The 2014 international Chemistry Olympiad will have the practice and theory tests. The practice test will take place at Pedagogy University in Ha Noi on July 23, meanwhile, the theory test will be held at My Dinh National National Conference Center in Ha Noi, said organizers
This contest was launched since 1968, and Vietnam is the seventh countries in Asian region hosted this competition.