Some Vietnamese students studying at the Asia Pacific College (APC) attended a youth conference held by Raffles Junior College in Singapore last week to share their knowledge and opinions about education with their international peers.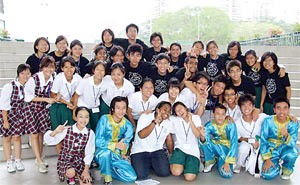 Vietnamese students pose for a photograph with their international peers at the conference
The conference, with the theme "Action for Education", attracted many students ranging in age from 14 to 17 and from locations as diverse as Brunei, Indonesia, Philippines, Singapore, Thailand and Viet Nam.
 
Representatives of each country presented a short lecture on their own country's educational situation and the difficulties faced by many young people when trying to receive a good education.
 
In order to devise innovative ways to solve educational problems, participants took part in group discussions and developed detailed action plans with the support of Raffle's students.
 
Common issues mentioned by many of the students were poverty, a lack of study materials and facilities, poor teacher qualifications, teacher shortages and stiff competition.
 
The conference's success was made possible by the excellent organizational skills of Raffles Junior College's students, through which Vietnamese students were able to learn new skills related to team work, leadership, conference organizing, pressure in the work place and international integration.
 
Returning home, APC students plan to hold a similar conference for their peers in Viet Nam with the support of the school's head.