On the occasion of the new school year and the 9th anniversary, the Economic- Finance University in Ho Chi Minh City gave scholarships totally worth  VND28 billion (US$1,255,520) to freshmen.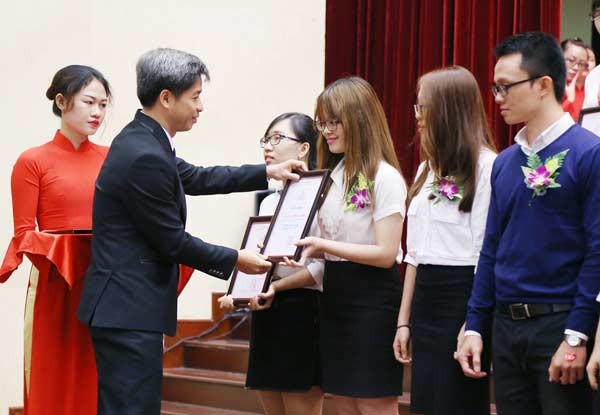 Head master of the school gives scholarships to good students (Photo: SGGP)
At the ceremony of the new school year opening, the school gave 998 scholarships to freshmen who had good performance on entrance exam scores of entering university. In the first year, 38 students will receive full scholarships each worth VND60 million (US$2,692), 381 students will receive half scholarships each worth VND30 million and 580 will receive one-fourth scholarships each worth VND15 million.
In addition, the school also gave 24 scholarships for gifted students in the school totally worth VND240 million as well as many other scholarships for students who are active in communist activities and scholarships for clubs.
Total value of scholarships is nearly VND23 billion (US$1,030,998)
Additionally, the school provided 618 scholarships to learn English each worth VND6 million aiming to help students perfect their foreign language skills. Total is worth VND3.7 billion.
Especially, 28 enterprises also granted scholarships of cash and items worth over VND1 billion to UEF scholarship fund to help talented but poor students.
On the occasion, the school was granted a certificate of merit for partaking in security movement by the city police.