Most graduates of vocational training institutions lack the skills companies require, creating a gap in the country's workforce quality, according to a 2013 World Bank survey.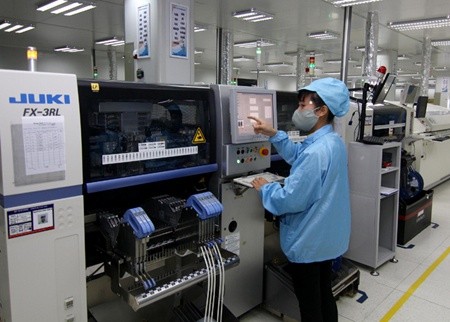 A survey the agency did this year of more than 100 Japanese firms in Viet Nam showed that 80 per cent needed more technicians. — VNA/VNS Photo Vu Sinh
Using this data, the Japan International Co-operation Agency office in Viet Nam yesterday proposed innovative skills-development strategies to accelerate Viet Nam's industrialisation at a conference in Ha Noi.
The bank survey found that about 80 per cent of the more than 100 companies operating in Ha Noi and HCM City encountered problems recruiting technicians because applicants did not possess the required skills.
"Despite the Government's efforts, as well as those of vocational institutions and the industry sector, the supply of skilled workers in Viet Nam has not caught up with the demand," said Mori Mutsuya, chief representative of the Japanese agency.
Viet Nam benefited from the country's massive supply of low-wage, production-line workers, said Junichi Mori, an agency consultant. But he added that it needed to develop skilled labor to reach the next step of industrialisation.
"Viet Nam requires high-skilled industrial workers. such as technicians, production-line leaders and engineers who can improve product quality and production operations," he said.
A survey the agency did this year of more than 100 Japanese firms in Viet Nam showed that 80 per cent needed more technicians.
"Although we have established a linkage between vocational institutions and the enterprises, the supply and demand in vocational training still poses some problems," said Cao Van Sam, deputy director of the Vocational Training General Department.
The institutions' lack of information also confuses students. They don't have reliable sources for learning about the needs of their chosen industries, so it is difficult for them to prepare for job applications.
The survey by the World Bank also showed that 40 per cent of firms described the lack of quality vocational training as a major problem.
"The low social status of technicians creates low motivation and a high rate of job hopping, which lead to skills shortages," Junichi said.
To close the gap, conference participants proposed a tripartite partnership between the vocational training institutions, industries and Government. Some also proposed specific actions, like an employment support system and skill evaluation tests.