Ho Chi Minh City Television (HTV) is broadcasting classroom lessons until early July so that Grade 12 students can brush up on their math, physics, chemistry and biology prior to the all-important university entrance examination.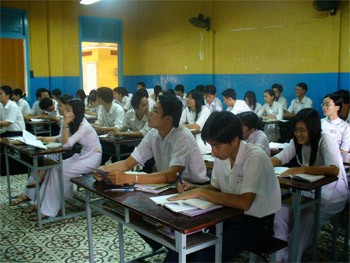 Grade 12 students have more opportunities to review the lessons as HTV broadcasts the programs(Photo:U.Phuong)
The program runs for 35 to 40 minutes on Channel HTV4 at 7 am, 2 pm and 9 pm Monday to Friday.

Math is on Monday and Friday, physics on Tuesday, chemistry on Wednesday and biology on Thursday.

The lecturers are Dr. Nguyen Cam from the Ho Chi Minh City University of Education, Nguyen Thanh Binh and Phan Ky Nam from Le Hong Phong High School, and Nguyen Tan Trung from the Vinh Vien Training Center.