In an effort to improve educational quality in the 2002-2003 school year, the education sector started a project to rewrite the textbooks for elementary and high schools. Yet, Vietnamese pupils and students are still tortured by textbooks and their theoretical contents, why?
According to many teachers' assessments, more practical and useful content has been introduced into the new textbooks. However, the changes do not work well as this curriculum still has a theoretical twist, and attempts to transmit excessive knowledge to children in a rigid way.
Making judgment on the current curricula in elementary and high schools, Dr. Pham Phu of Hanoi University of Technology said," It's not necessary for the curricula to be prepared in a way that it will shape our children into specialists of different fields. For example, mathematics is designed to prepare the kids for becoming mathematicians while literature aims at equipping them with the knowledge necessary for budding linguists!"
Phu added, "I wonder why our kids have had to learn a lot of complicated math formulas like solving equations or integrals which can't be applied into real life. No matter how advanced the acquired knowledge is, it will certainly turn out to be useless if it can't even help a high school graduate figure out the area of a garage he intends to build."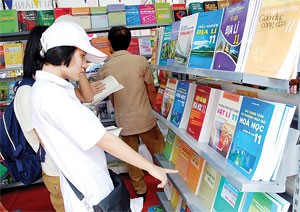 High school students look at textbooks in a bookstore
So why are the new textbooks still not in line with pupils and students' expectations and needs? Addressing the last National Assembly, Minister of Education and Training Nguyen Thien Nhan explained, "Nearly 80 percent of textbooks' primary writers are scholars. They are pre-service teachers or professors, doctors and master holders who have never taught elementary and high schools."
No wonder teachers in elementary and high schools - feeling pity for their students endeavor of drowning in theoretical textbooks - now and then raise their voice to propose textbook writers to join a teaching session in the schools so that they can actually access the results of the application of their products in a real teaching and learning context. 
A doctor, leader of a team in charge of rewriting math textbooks for elementary schools, admitted the overload of math programs, yet, insisted that he and his coworkers just prepared and wrote the textbooks' contents (or lessons) complying with the curricula previously designed by the Textbook Program and Strategy Institute of the Ministry of Education and Training (MoET). Meanwhile, the General Education Department (GED) and Elementary Education Department (EED) decided the time limit for a teacher to go through each lesson in his/her class.
So, for a lesson to be officially taught in elementary or high schools, it must be subject to analysis from the three top agencies of the MoET at their own discretion, and each one had its own way. What an absurdity! No wonder why curricula are overloaded and textbook contents unrealistic.
Many educators and parents, however, also blamed the poor quality of textbooks' content for the Education Publishing House (EPH)'s monopoly policies on publishing textbooks.  In only five years, from 2002 to 2006, EPH put into circulation as many as 821.9 million copies of textbooks of all kinds - a record figure - without having to cope with any competitive pressure from any other publishers.
Director of the EPH Ngo Tran Ai explain, "Curricula and textbooks are determined by the MoET, the writers of textbooks and the Textbooks Assessment Council are appointed by the Ministry too. We are just responsible for publishing the textbooks  how to meet the MoET's requirements and standards in terms of technical aspect. We have no right to adjust or change any detail in the textbooks' content."
In principle, EPH, of course, cannot be blamed for the bad contents of textbooks. Yet, one parent says, "There is no ground for EPH to bother itself about improving the quality of textbooks. Things would be different if other publishers were also allowed to publish textbooks, and if at the same time many other qualified teachers and scholars were allowed to write them."
Indeed, such competition would actually benefit parents and children as they could be entitled to a wider choice of textbooks at lower prices.

Nevertheless, pupils and students still have to go to school with a particular dread and use their textbooks as they are the only resource. This condition will remain as long as MoET's policies and failure to consider students' wellbeing continues for setting up curricula and creating textbooks' content and also the EPH's monopoly on the publication of textbooks. 

Related article:
Curricula Overload and Impractical Subject Matter Dog VN's Students