Vietnamese cuisine is full of dishes that require meticulous preparation and the names alone arouse nostalgic memories of days gone by, leaving a craving on the taste buds.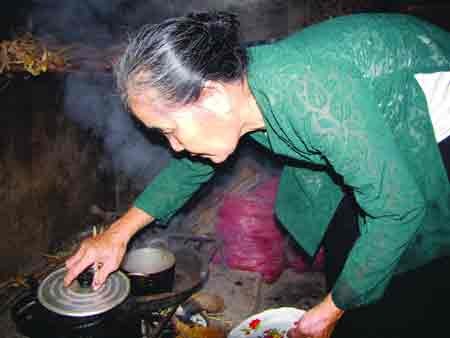 The old woman Chat prepares to cook the special Am soup
Two delicious dishes from the central province of Quang Tri are Am soup and Mam. Am soup is particularly famous in Lam Thuy village of Hai Vinh commune in district Hai Lang and mam is famous in Tra Tri village in Hai Xuan commune.
Am soup is not a very familiar dish even to gourmet cooks in the country as people in Lam Thuy village have long since stopped cooking this dish.
It's very preparation requires enormous amounts of patience, time and effort. It takes much convincing to persuade villagers to cook this dish.
Mam is a fermented food made of special crab, fresh-water fish or shrimp. Elsewhere in the country mam is better known as a pungent, salty amber liquid often used as an ingredient in cooking or as a condiment.
Old woman Chat in Lam Thuy village seems to be the only one who knows how to cook Am soup. The 73 year old woman runs an eatery in front of her house yet does not include Am soup on the menu, knowing how long it takes to prepare it. She learnt to cook the soup when she was a little girl but is hesitant to disclose the original recipe to anyone.
Legend has it that Lam Thuy villagers who are farmers and work in their fields their entire lives, use rural ingredients like snakefish, a kind of sour vegetable, and baby banana inflorescence for their soup recipe.
According to Mrs. Chat, to make a good soup, villagers must catch freshwater fish at a particular time when river water rises at night. It is also important to clean the greasy layer outside the fish and remove the clot of blood in its throat or else it would leave an awful smell.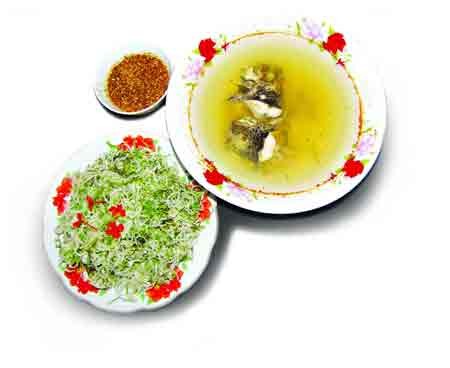 The Am soup
She said one just needs the head and the body of the fish to make the soup. Chat's daughter-in-law, Nguyen Thi Gai, often helps her in making the soup and believed that presoaking the fish was important in the cooking process of the soup.
Mrs. Chat prefers to cook the soup over a wood fire even though she has a gas stove. Chat stirs the fish and then adds water and the special sour vegetable into the pot. She removes all vegetables from the bowl and then continues to boil the water residue in the pot. The Am soup is best when the water residue is so transparent that the bottom of the pot is visible.
Preparing the soup is very time consuming and requires patience. One needs to first make a banana salad to prepare the consommé. The banana is first peeled and sliced into small pieces then mixed with sweet basil, perilla and basil leaves.

Chat then mixes this with soya bean paste, sesame, ginger and fish sauce until the mixture is thick and dense. The mixture leaves a delicious aroma while preparing.
Mrs. Chat is not just particular on how the soup is prepared but also how it is eaten as well. She instructs you to first scoop little rice, banana salad and consommé into a bowl and then pick up fish bits and some broth and stir all together to be eaten in one spoonful.
She believes Am soup is unique as a traditional soup of the ancient Vietnamese people and a great culinary taste with a combined banana and sweet and sour flavor.
The principle of yin and yang is applied in selecting ingredients for the soup. Anyone who has ever tasted this soup is bound to relish and remember its unique taste for life.