Pediatrics Hospital II (PH II) conducted a liver transplant on March 13 for the 12-month child Mai Hoang Thanh Trang. Doctors discovered the patient had liver problem when she was two weeks old, and then her condition worsened. She will die unless there is an immediate transplant.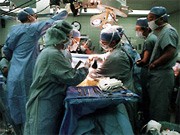 Surgeons conduct the liver transplant

The donor is the girl's mother Ngo Thi Truc Thu, 31.
The operation was carried out with the help of liver transplant experts from Belgium and some hospitals in the city, especially Medic Medical Center, which  performed the computed tomographic (CT) scans of the mother's liver artery – the most important technique of liver transplant.

PH II leaders said this transplant is more complicated than the previous case because the patient was younger and her condition was worse.
Vice Chairman of Ho Chi MInh City People's Committee and the Head of Operation Steering Board Nguyen Thanh Tai came to the hospital to check and encouraged the surgery team.
As in the previous case, this operation is paid by PH II.

Related link
- Liver-Transplanted Child Recovers after 4 Operations