A festival to give blood yesterday took place in the National Convention Center in Hanoi.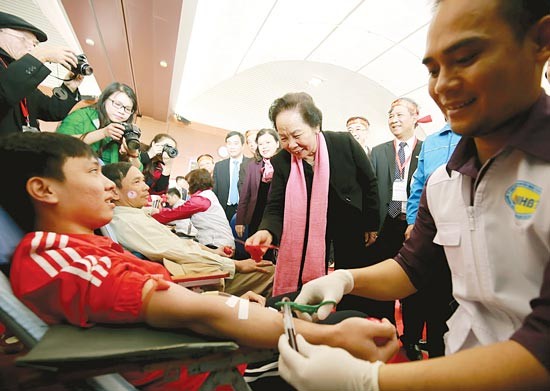 Vice President Nguyen Thi Doan ( in black costume) encourages blood donors at the festival (Photo:SGGP)
The ninth blood donation festival themed "Donating blood means giving life" this year attracted over 20,000 people.
It is hoped to receive around 8,000 blood units for treating patients in 150 hospitals in the North Vietnam, said Nguyen Anh Tri, Director of the National Institute of Haematology and Blood Transfusion.

In addition to giving blood, the festival had other activities including campaigning, exchanging between musical bands, volunteer groups and giving 1,000 thank giving cards to people who have benevolent hearts.

Vice Presidents Nguyen Thi Doan and Health Minister Nguyen Thi Kim Tien visited the festival, appraising blood donors for their good acts.