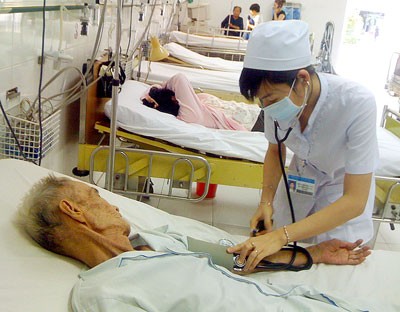 A male stroke  patient is being treated in Nguyen Trai Hospital in Ho Chi Minh City (Photo: Sggp)
The country has 200,000 people suffer from stroke annually, 11,000 of them died of the disease and the remaining have sequela, according to the Vietnam Stroke Association.

There has been an upward trend in the stroke patients as recorded in Nguyen Trai, Nguyen Tri Phuong, Cho Ray and People 115 hospitals in Ho Chi Minh City.
The proportion of stroke patients increased from 1.7 percent in 2010 to 3 percent in 2013. The rate of male stroke patients is increased almost four-fold their female counterparts.

The Vietnam Stroke Association said that stroke is common in middle-aged and elderly people. People with diabetes, high blood pressure, high cholesterol, obesity, smokers have a higher risk for strokes.

To prevent stroke, medical experts advised to cure high blood pressure, heart diseases, stop smoking and take herbal medicines as well as have medical check-up every three to six months.

In addition, patients with high risks should realize symptoms such as sudden numbness or weakness of the face, arm, or leg (especially on one side of the body); sudden confusion, trouble speaking or understanding speech; sudden trouble seeing in one or both eyes; sudden trouble walking, dizziness, loss of balance or coordination; sudden severe headache with unknown cause.