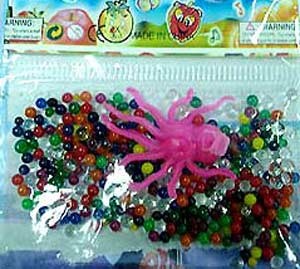 China-made swelling beads are suspected as the main cause of the incident
Twenty-two students and one secondary school teacher in central Viet Nam's Thanh Hoa province were recently hospitalized after allegedly inhaling toxic smells from a hazardous China-made "swelling bead" toy.
The victims were admitted to the Quang Xuong District General Hospital on December 17 with symptoms similar to being poisoned. They are mostly female students in the sixth and eighth grades in the Quang Phong Secondary School.
According to teacher Hoang Ngoc Dung at about 3pm, his students started to feel sick and displayed symptoms like dizziness, vomiting, convulsions and respiratory problems. Dung also felt a sudden headache and upon searching the classroom, he found a glass filled with water and the swelling beads.
Dung added that those sitting near the beads suffered from more serious symptoms. Pham Thi Dung, one of the two victims suffering from convulsions, recalled she sensed a strange smell coming from the beads and suddenly felt sick.
Head of the hospital's emergency ward, Nguyen Thi Binh, said that upon checking the two victims suffering from convulsions she found tiny sparkling grains on their necks, cheeks and hands.
After being released from hospitals, seven of the 23 victims were brought back to hospital on December 20 with the same symptoms they had had three days earlier.
The hospital has used cardiotonic pills, tranquillizers and other medicines to help improve patients' conditions. Two kids with more serious symptoms have been transferred to the Thanh Hoa Pediatric Hospital for further treatment, said Nguyen Van Nhien, the hospital's deputy director.
Dr. Trinh Van Tuong said it is evident the students had inhaled something toxic from the beads, which made them sick.
However, Deputy Director of the Thanh Hoa Province Preventive Health Center Dinh Ngoc Quy had another hypothesis on the incident. He said what the victims suffered was a combination of breathing toxins and hysteria.
At first, the strange smell from the toys affected the students' respiratory system, inhibiting their nervous system. The symptoms they experienced soon resulted in a domino effect of hysteria and the physical symptoms feeding upon each other, he said.
According to the Director of the Center of Environmental Protection and Chemical Safety, Do Thanh Bai, the toys are made of toxic components which easily evaporate and cause damage to peoples' nervous systems. But, he added, further investigation should be conducted to confirm if the toys are really to blame.
Medical samples have been sent to a laboratory to determine the exact cause of the incident. Meanwhile, local officials are planning to confiscate any of the toys found on sale and they warned parents not to buy them for their children.
Related article:
Yet Another Toxic China-Made Toy Found in Viet Nam