Vietnam has an average of 15,000 new cancer patients every year, while 70 percent of cases are detected late, so they at last have died of cancer, said medical workers.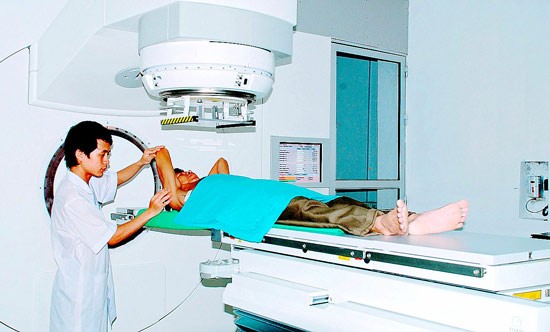 A cancer patient treated with radiation treatment (Photo: SGGP)
Moreover, the fatal disease is on upward trend and more and more young people get it. Especially most popular cause of the disease is outside environment and patients' wrong lifestyles.
The K Hospital (the national cancer institute) in Hanoi, has always crowded with patients so that no chair in the treatment ward has left. Outside, there are so many people who have to sit and stand with anxiety to wait for their relatives every day.
Medical workers said the overcrowding has seen for many years despite two additional treatment satellites had been operated.
Assoc. Prof. Dr. Tran Van Thuan, deputy director of the Hanoi-based K Hospital and head of the Research Institute for Cancer Prevention and Control, said that the country currently has around 250,000 people living with cancer, according to a latest survey of the institute. Moreover, the country has 150,000 new breast cancer cases per year and half of them have succumbed to the disease.
Compared to ten years ago, the rate of infected people increased drastically. Currently, the rate of men with the cancer has 181.3 out of 100,000. By 2000 the figure sharply increased to 141.6/100,000 men. Not only Vietnam but also nations in the world have seen the upward trend in the number of cancer people.
15 of the most common cancers in Vietnam are lung, breast, large intestine, stomach, liver, prostate, uterus, cervix, esophagus, bladder, non-Hodgkin lymphoma, oral cavity, leukemia, pancreas, ovary and kidney.
The most common cancers in men are lung, colorectal, stomach, prostrate, while in women are uterus and cervix. Medical system on cancer currently just meets 30 percent of treatment demand.
Facing more worries

Worrisome, hospitals for treating cancer disease in Ho Chi Minh City and Hanoi have received more and more young Vietnamese people aged twenty and some of children.
For several reasons, including low public awareness of prevention of the deadly disease, as many as 70 percent of breast cancer cases in Vietnam are detected late, leading to low efficacy in treatment. Meanwhile, in developed countries, 80 percent of breast cancer patients are saved thanks to early detection and timely treatment.
Breast cancer is ranked the second among the most deadly diseases, with 7 million new breast cancer cases and some 52,000 deaths are recorded every year.
 
Though cancer is not infectious disease, it has high proportion of deaths in the country. Sadly, Dr. Thuan said that one of the difficulties in breast cancer treatment is that women, and the general population, are not well informed of the disease. Accordingly they just come to see doctor when they are at final stage of the disease.
People should have periodic diagnosis, exercise regularly and medical check-up as well as practice healthy lifestyle without smoking, wine to prevent cancer.