No further cases of acute diarrhea or cholera have been identified in the nation's northern provinces. But the bugs seem intent on attacking flood-ravaged in Quang Nam province. One five-month old patient recently died of acute diarrhea combined with pneumonia.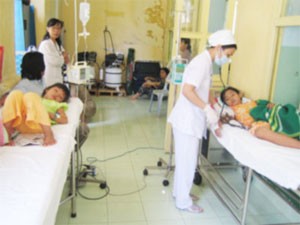 Chidren suffering from diarrhea are being treated in a hospital

Yesterday, the Acute Diarrhea Prevention and Fighting Steering Committee reported that no further cases of acute diarrhea have been found in the last three days.
Dr. Nguyen Tran Hien, director of the Central Institute of Epidemic Prevention, revealed that tests of patients' medical waste from the end of the last week to yesterday found no further incidents of cholera.
Though the bugs now seem under control, the Ministry of Health warned a high risk of a recurrence in northern provinces remains. Municipal authorities of cities and provinces are requested to continue monitoring cases of diarrhea to deal with acute ones in a timely manner.
In related news, the Medical Center of Phuoc Son District in Quang Nam Province, revealed 18 patients have recently suffered from diarrhea in Phuoc Thanh Commune, a flood-stricken area of Phuoc Son District. One of the victims, Ho Van Tan, five months old, died of acute diarrhea combined with pneumonia.