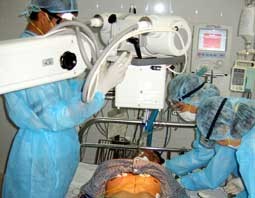 The Dutch Government's project will help Viet Nam train more high-tech staffs in health sector.
PM Nguyen Tan Dung has approved the extension of the "Viet Nam-Netherlands cooperation on health human resources improvement" project for the 2006-2010 period with an additional investment of 14 million euro.
The information, which was announced by the Vietnamese Ministry of Health this morning, revealed that this is non-refunded aid from the Dutch government.
The extended project will continue giving support to Viet Nam's health sector and help the Health Ministry in improving the quality of its human resources process, in a bid to protect people and provide them with better access to high-quality health service.
According to a representative from the ministry, the Dutch government's project has helped boost Viet Nam's health developing over recent years, making it conform with the country's development.