The health sector in Ho Chi Minh City has made great achievements by applying advanced technology in medical treatment to improve healthcare.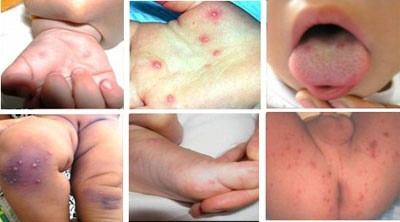 The Children Hospital No.1 implements blood filtering method to save hand-foot-mouth children with organ failure complications
1. Application of new Quantitative Fluorescent Polymerase Chain Reaction technique in antenatal diagnosis
The Genetics Department of Tu Du Hospital, the first in the country, has implemented antenatal diagnosis to discover Thalassemia, a genetic disorder in which the production of normal hemoglobin is partly or completely suppressed, by the new Quantitative Fluorescent Polymerase Chain Reaction (QF-PCR) technique.
The principle of QF-PCR technique is based on the presence of highly polymorphic short tandem repeat (STR) markers specific for each chromosome.
In addition, the hospital has used the new technique to diagnose other diseases such as hemophilia, DNA sequence analysis, AZF disorder to cause sterility and rubella in pregnancy.
The application of QF-PCR in antenatal diagnosis has contributed to improving quality of Vietnam's population.
2. Use of stem cell in treatment of hematological diseases
The Blood Transfusion and Hematology Hospital in Ho Chi Minh City performed the country's first bone marrow transplant in July 1995 and peripheral stem cell transplantation, a method of replacing blood-forming cells destroyed by cancer treatment, in 1997.

On January1, 2002, the hospital conducted the first umbilical cord blood stem cell transplant. So far the hospital has carried out successfully more than 100 transplant operations; most of them on children. The hospital has transferred the new technique to other medical facilities in the country.
3. Injection of anticoagulation for thrombosis stroke treatment
People's Hospital No.115 in District 10 has used anticoagulation to suppress blood clot formation in cerebral venous sinus thrombosis to save people suffering from thrombotic stroke, a stroke caused by a blood clot lodged in an artery supplying the brain.
However, the technique can't be used for big blood clots; accordingly, the hospital used combined technique to take the thrombosis. This technique has helped stroke patients recover completely, reducing burden for families and the society.
4. Continuous blood filtering to save hand-foot-mouth children
The Children Hospital No.1 has found out that hand-foot-mouth disease caused by virus EV71 is one of the factors producing a substance in blood that proves fatal. Since then, the hospital implemented blood filtering method to save children with organ failure complications.
Thanks to the application, the hospital has saved many serious cases. The hospital has submitted the treatment method to the Ministry of Health for consideration.
5. Liver transplant for children
The Children Hospital No.2 succeeded in its first liver transplant in December 2005 and become the only facility to perform such an operation in the South. So far, the hospital has conducted liver transplants on seven children including one six kilogram baby, accounting for half of the country's liver surgeries.
6. Application of the new Quantitative Fluorescent Polymerase Chain Reaction technique in forensic tests
Forensic medicine centre in the city has developed the technique Quantitative Fluorescent Polymerase Chain Reaction in sexual assault, and analysis to verify bloodline, helping the legal sector to trace proof for cases as well as disease sources caused by generic disorders.
7. Combining traditional medicine and modern in treating Osteogenesis imperfecta
Osteogenesis imperfecta (brittle bone disease) is a genetic disorder usually resulting from abnormalities of the genes, which control the production of a protein called collagen.
Doctors of the Traditional Medicine Institute first used traditional medicine and crocodile glue to increase bone density, reduce pain and prevent bone shape deformation. They continued treatment with bone orthopedic operation to help children be able to walk.
8. Application of Biotechnology to make drugs for Hepatitis C treatment
Nanogen Biopharmaceutical Company has applied biotechnology to produce a drug for Hepatitis C treatment. The new medicine proves to be effective and appropriately priced for majority of Vietnamese patients.
9. Effective control and drive back of HIV/ AIDS
The city's anti-HIV/ AIDS programme have yielded considerable achievement. More than 80 percent of babies were tested for early discovery of HIV transmission from mother to child. The rate of HIV transmission from mother to baby is around 3 per cent instead of 30 per cent if there is no early intervention.
10. Decreased cases of food poisoning
The city has adopted measures to ensure food hygiene. In 2011, the cases of food poisoning reduced by 38.5 per cent. The city's food supply chain management model for the period 2011-2015 has been approved by the Prime Minister, targeting tighter control of seedling, breeding, planting, raising, preserving and transportation.