The A/H1N1 influenza virus has spread to 30 provinces and cities around the country causing at least seven deaths.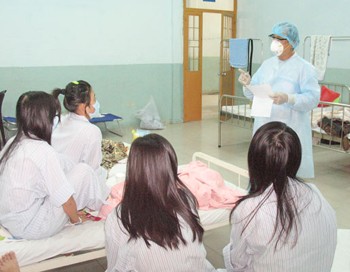 A doctor advising female students of a high school, who have been treated from A/H1N1 virus (Photo: SGGP)
Dr Nguyen Van Binh, head of the Preventive Medicine Department announced on Friday that most of the deaths were of people already being treated for diabetes, high blood pressure and lung congestion.
Health workers have just conducted tests for the A/H1N1 virus in some localities. As a result, there is no substantial number of people infected with the disease.
According to Dr Binh, people must wear mufflers when they have symptoms like cold, cough or a running nose and immediately go to health clinics for a check up, to deter the timely effects of the A/H1N1 virus.
Organizations, companies and schools should monitor their staff and students' health to prevent the influenza from spreading.
According to the World Health Organization, the swine flu has come into the post-epidemic phase. Over the last several months, the A/H1N1 virus has been uncovered in 64 countries around the world.