Some mountainous northern provinces including Lai Chau, Dien Bien and Ha Giang have reported cases of the anthrax disease in recent months.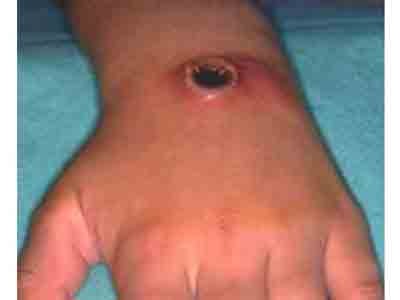 Anthrax can infect through the skin
The Department of Preventive Medicines in Lai Chau has reported 25 anthrax cases in the districts of Than Uyen and Tam Duong. One three-year-old toddler contracted the infection while one resident succumbed to the disease.
People believe that the cause of the disease is exposure to infected goats, cattle, sheep and horses or by consuming products related to them. Medical workers fret that it is difficult to eradicate the disease because residents' have a nasty habit of exposing themselves directly to infected ruminants during slaughter.
According to Deputy Health Minister Trinh Quan Huan, anthrax can infect humans in three ways. The most common is through the skin, which causes ugly sores that usually go away without treatment.
Dead carcasses of animals left to putrefy in open contaminated areas can be a source of anthrax infestation. Carcasses need to be buried to avoid the spread of the virus to live animals and subsequently to humans.