The one-hour drill, including the reception, examination, isolation, and treatment of a suspected Ebola patient, took place in the Central Tropical Disease Hospital in Hanoi on November 7.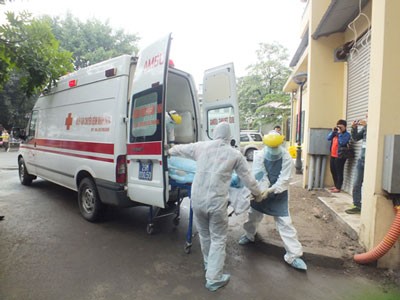 Medical workers take part in the drill (Photo: SGGP)
The drill aimed at reviewing the capability and preparedness of the hospital in coping with the deadly Ebola virus which had been killing many people in the West Africa.
The hypothetic scenario is that after being informed of a suspected case of Ebola in Noi Bai Airport, the patient was transferred to the Tropical Disease Hospital for isolation on an ambulance.
Upon receiving the information, the hospital immediately arranged an isolation area for the patient, who was later taken to the emergency department, where doctors took a sample from him/her for testing.
Hospital management board will issue guideline to wards including Treatment, Emergency, and labs to evacuate people out of the isolation area. Medical workers who will treat the case must wear protective suits to receive the patient from the ambulance to isolation room.
Ambulance, things to carry the patient, elevator that was utilized to transport the patient and the hospital's corridor where the patient was carried through, must be disinfected.
 
A medical council was set up to implement treatment methods. Disinfection measures were also carried out in the patient's house and keep all people who had contacted with the patient under close observation.
After the drill, deputy health minister Nguyen Thi Xuyen ordered departments of health focused on training medical workers about Ebola. All hospitals have to take part in a drill.