Artificial groin-joint replacement surgeries have been successfully conducted for two patients , doctors from Vinh Phuc general hospital said.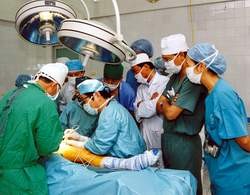 A groin-joint operation
The operations were conducted for Mr. Nguyen Van Chan, 74, in Trung Nhi Ward, Phuc Yen District and Mrs. Nguyen Ngoc Dang, 62, in Tien Phong commune, Me Linh District of Vinh Phuc Province.
Mr. Nguyen Van Chan had groin-joint degradation at both two legs while Mrs. Nguyen Ngoc Dang had broken bone at thigh.
Each surgery lasted for one hour and fifteen minutes at the cost of VND 20 million.
Two weeks later, the patients could walk with the help of a cane.
At present, they are recovering with their legs are gradually functioning well again. No complication was found yet.
Johnson and Johnson, the US manufacturer of health care products and medical devices, provided artificial groin-joint and surgery equipment.