Participants at a conference on governmental cybersecurity heard an urgent message yesterday: ensuring information security for each Governmental body is essential, especially as Việt Nam is developing an e-Government infrastructure.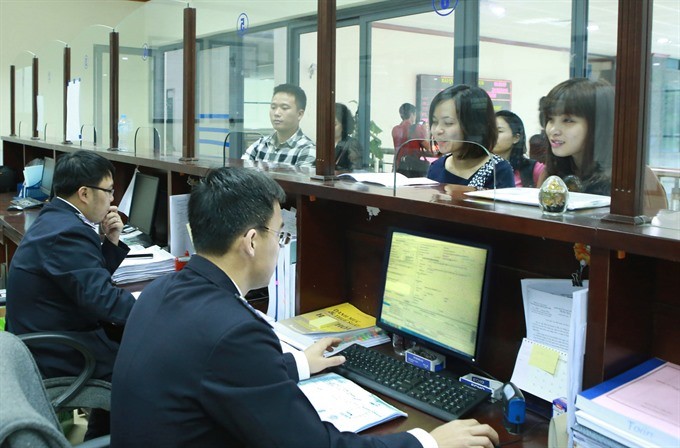 Business customers declare import/export goods via Hữu Nghị Customs Bordergate Division in northern Lạng Sơn Province. E-customs, as part of e-Government, helps increase the quality of public service delivery. — VNA/VNS Photo Hoàng Hùng
The conference on confidentiality and information security toward the implementation of e-Government in Việt Nam was held yesterday by the Government's Cipher Committee, aiming to raise awareness and work toward a more robust approach to cybersecurity.
E-Government – the use of information and communication technologies to improve the activities of public sector organisations – has proved effective and beneficial to citizens, businesses and organisations.
The conference's speakers warned, however, that the increasing convenience of e-Government brings with it a new set of difficulties to face.
Threats to information security are becoming more serious, and they may be used as a tool against the State to attack important infrastructure, freeze Governmental activities or destroy the economy.
Nguyễn Lê Phúc, deputy director of the Government's Portal, said that a key concern while implementing e-Government is protecting personal information.
The Government's Office is developing a roadmap to apply national and international standardised information protection system and to promote the use of electronic signatures and specialised coding solutions.
Some of the conference's participants proposed that it was necessary to require all Governmental bodies to use code signings granted by the Government's Cipher Committee in their electronic transactions.
Information, particularly State-level confidential information, must be encoded, stored and transmitted under the management of the Government's Cipher Committee.
State employees, particularly whose work relates to confidential information, need to improve their capacity and responsibility.
This is the first time that Government's Cipher Committee organised such kind of conference.
Public threats
On Tuesday, the Việt Nam Information and Communication Technology (ICT) Press Club held talks on information security and threats to economy, warning about the increased risks of cyber attacks and information insecurity.
General director of CMC Internet Security (CMC InfoSec) Triệu Trần Đức said that cyber war in Việt Nam was visible with attacks on banks and Vietnam Airlines.
"As projects deploying ICT applications--like smart city or 4G services--become more prevalent, they will provide ample grounds for hackers unless radical information security measures are taken," he said.
"In the age of Internet of Things, your computers, mobile phones or even your washing machine and fridge could be subjected to malwares," he said.
The Internet of Things (IoT) is known as a system of interrelated computing devices, mechanical and digital machines, objects, animals or people that are provided with unique identifiers and the ability to transfer data over a network without requiring human-to-human or human-to-computer interaction.
The Việt Nam Computer Emergency Response Team (VNCERT) detected 127,630 cyber insecurity cases in the first half of this year, of which, over 8,700 cases relate to phishing viruses, 77,160 cases relate to website defacement and 41,700 cases relate to malware.
The number is four times higher than those detected in 2015 and 6.5 times higher than the 2014 metrics.
Nguyễn Thanh Hải, Head of Information Security Department under Ministry of Information and Communications, said that awareness and understanding about information security are crucial in the fight against cyber crimes.
Modern technology can help, but it was more important to have people master their technology effectively, he said, calling internet users, particularly businesses, to check and fix their systems regularly.
The ministry is leading the implementation of the Law on Information Security, through which they will classify information into tiers demanding suitable protection measures.