Two attendants of the Thien Tho Nursery School where 18 month old Do Ngoc Bao Tran was found half-dead with her mouth taped shut, Le Thi Le Vy and Nguyen Thi Hong Ha, could to stand trial for their irresponsible acts.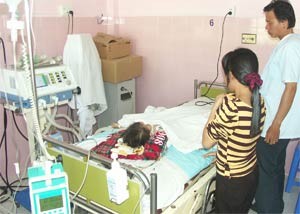 Tran and her parents in the hospital

Do Thuong Hiep, father of the infant yesterday decided to sue Vy and Ha. His complaint was sent to the Phu Nhuan District Police and the HCMC People's Procuracy.

According to investigators and the Phu Nhuan District Police, if the child's condition turns worse, the initial charge of "unintentionally inflicting harm on others" will be changed to a more serious one.
The two admitted they only wanted to "stop the baby from crying".
In talks with Sai Gon Giai Phong, Ministry of Education and Training Deputy Head Inspector Tran Ba Giao said it is local officials' responsibility to guarantee any non-public nursery school or day-care center undergoes careful checks for the quality of its staff and facilities before receiving a license to operate.

Therefore, the district's Department of Education must also be held responsible for the incident, as they allowed unqualified attendants to care for the school's children.

According to the HCMC Department of Education and Training and district officials, as soon as investigators make their final conclusion on the case, Vy, Ha and the owner of the school will be dealt with in accordance with the law.

Meanwhile, the remaining infants under the care of Vy and Ha will be temporarily transferred to other public nursery schools.

Dr. Bach Van Cam, Head of the Intensive Care and Recovery Department of Children's Hospital No.1 said Tran's condition has turned worse. She is in a coma and her body temperature has dropped below 35 degrees. Cardiotonic pills have also been used to improve the tone and strength of the infant's heart. She is currently on artificial respiration.

Related article:
Unable to Stop Infant from Crying, Babysitter Seals its Mouth with Duct Tape