The Australian Consul-General in HCMC, Mr. Mal Skelly, has announced that an Australian medical team working under a project called "Vietnam Vision" will arrive in Viet Nam on August 23 to provide free eye operations to about 600 poor rural people who are blind from cataracts.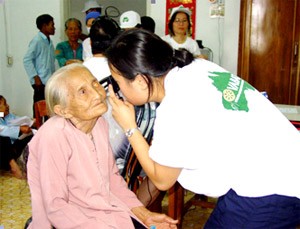 Doctor examines a patient's eyes(Photo:U.P)
The 40-member team of doctors, nurses and technicians will operate on 200 people from Binh Phuoc and 400 from Quang Tri who have never had the opportunity for an eye operation before.

They will work with Vietnamese health professionals throughout their stay. In the first week, more than 700 people will be examined to assess their suitability for surgery.

Each cataract operation in Vietnam will cost about 100 Australian dollars and will be paid for by donations from Australia's Vietnamese community and Rotary Club members.

In addition to contributing their services free of charge, the Australians are paying their own travel and accommodation costs.

Though the Vietnam Vision Project hasn't been around for long, It  has been a remarkable success, with 327 Vietnamese people getting their sight back in 2003, and more than 500 the following year.