The Vietnamese health sector will urgently strive to expand the school dental programme (SDP) to every part of the nation to try and reduce the high rate of dental diseases in children.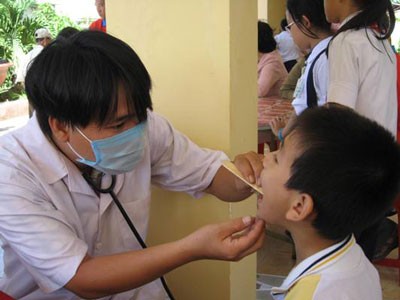 A school boy gets tooth check at his school
At present, the programme only covers eight out of 63 provinces and cities because of a lack of human and financial resource and medical equipment, said Deputy Minister of Health Nguyen Thi Xuyen at a national conference on school dentistry on Dec. 10.
Many provinces face challenges maintaining and expanding the programme, so it is necessary to promote clear policies to expand it to cover 100 percent of Vietnam," said Xuyen.
According to seven-year-old statistics, the rate of tooth decay in children between six to eight years of age is nearly 85 percent. Each child has an average of 5.4 decayed teeth. The decay rate among the adults is between 90 and 96.4 percent. Each adult has an average of nine to 11 decayed teeth.
Health experts said a lack of funds has prevented a large-scale dental survey from being carried out among children. A recent small-scale survey in Hanoi showed that the rate of tooth decay in children aged six to eight was 92.2 percent and each child had an average of 5.7 decayed teeth.
Since 1998, the SDP has provided limited dental-healthcare information for primary level students, given them fluoride to wash their mouths and carried out dental checks at schools.
Through the SDP, more than 6.7 million students received dental-health education. Of these, 3.6 million used the fluoride and more than 2 million had their teeth examined at school.