The new method is being driven by an on-going shift from metal implants to biodegradable materials based on a range of benefits they provide to both the patient and the surgeon. The new method help bone fracture patients avoid spending two surgeries.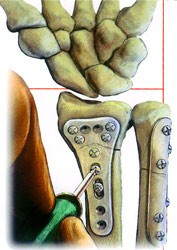 Biodegradable plate
The Head of Upper Limbs Department Nguyen Van Thai said doctors had previously placed a metal splint to hold broken bones in position when treating patients suffering distal radius fractures.

After the operation, the patient will eventually have to undergo another surgery to remove the metal splint, otherwise it will cause graft rejection or complication arises.
However, with the new Inion OTPS Distal Radius and Ulna plates, doctors can treat accident patients much faster with fewer traumas to them. The Distal Radius plates will be fixed to the broken bone by using screws and pins. Part of the Hand Fixation System is also the Ulna plates which is especially designed for the elbow bones.
With the biodegradable plates implanted, the patients need to have only one operation because the plates gradually lose their strength during 18-36 weeks. Bioresorption takes place within two to four years.
The fee for using this kind of operation is reportedly around VND6 million, four times higher than that of normal surgery.