Outbreaks of avian influenza among poultry have officially been reported in the capital city of Ha Noi, in a village 20 km away in the northern province of Ha Tay and in the northern province of Quang Ninh.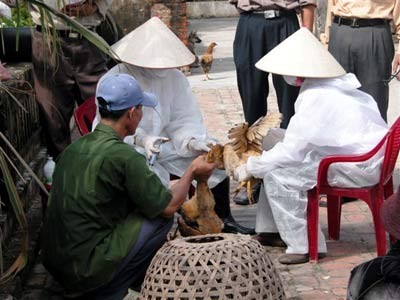 Vets (in white) give poultry vaccination
The news was confirmed by an official from the Department of Animal Health under the Ministry of Agriculture and Rural Development in a meeting in Ha Noi on Tuesday.
A test result showed the H5N1 virus was present on disease samples from 550 unvaccinated chickens aged between one and two months old.
Agriculture and Rural Development Minister, Cao Duc Phat confirmed that the risk of the bird flu reoccurring is very high. Local authorities are continuing to closely monitor the poultry industry for any new occurrences of avian influenza A (H5N1).
20 million doses of the bird flu vaccine will be imported into Viet Nam on March 10 and another 90 million doses will be imported later in this month. Local animal health workers are beginning preparations for the first vaccination campaign in 2007.