The H5N1 "bird flu" virus has reappeared in the northern province of Bac Giang and southern province of Tra Vinh, reported animal health officials in a meeting of the National Commision for Bird Flu Prevention yesterday.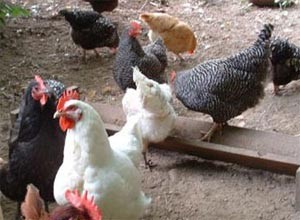 Chickens in a local farm
Can Tho city's Region 7 Veterinary Center Director Nguyen Ba Thanh announced the new incidences Monday. H5N1 was found in 1,300 ducks in Tra Vinh Province. The ducks had shown symptoms similar to those of bird flu. After their deaths, they tested positive for the H5N1 virus.

A day later, the National Steering Committee for Avian Influenza Prevention and Control reported the reoccurrence of bird flu in Bac Giang's Viet Yen and Viet Dung Districts where over 1,000 ducks were killed by the disease.
Heath Ministry's officials also worry about ongoing smuggling of poultry into Viet Nam from China, where bird flu epidemic is occurring in a more dangerous and complex manner and two people in China were confirmed to be infected by H5N1, one of whom died. Last week, about 21,000 smuggled chickens were seized and killed by local market management officials in northern Lang Son province.

Relating to the H7N3 discovered in Republic of Korea and Canada, Animal Health Department Head Bui Quang Anh said the virus was a very dangerous type of bird flu which can be transmitted to humans and one veterinarian in Holland was killed by the virus.

According to a report from the Animal Health Department, the use of vaccines of unknown origin in some provinces adds to the risk of another outbreak of bird flu, foot and mouth disease or blue ear disease in poultry, cattle and pigs.

The Deputy Minister of Agriculture and Rural Development Bui Ba Bong is directing implementation of the second phase of a 2007 bird flu vaccination and drawing up a new plan to test the effectiveness and safety of bird-flu and blue-ear vaccines. The Institute for Animal Health will be in charge of carrying out the tests and announcing results before the end of this year.