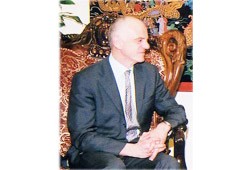 Dr. David Nabarro

Vaccination and poultry culling are Viet Nam's keys to success, said Dr. David Nabarro, chief pandemic flu coordinator for the United Nations, at a press conference in Bangkok on Friday.
Laurence J. Gleesen, regional manager of the Emergency Center for Tranboundary Disease Control of the UN Food and Agricultural Organization, said the Asia-Pacific region was the focal point of bird flu, especially in winter when the H5N1 virus could develop fast.
The experts present paid special attention to Indonesia, where 54 people have died from the disease, but said the risk of transmission of the virus from pig to human was low.
The situation with regard to avian influenza in Viet Nam had been very serious, they said, with 92 infected people and 43 deaths from 2003 to 2005, but the situation was much better now.
Ms. Gleesen hailed Viet Nam for its outstanding success in recent times, pointing out that no new case of bird flu had been reported there since November 2005 in spite of the occurrence in nearby countries.
Hiroyuki Konuma, Deputy FAO Regional Representative, spoke highly of the attention being given to dealing with avian influenza by all branches of government, and stressed the importance of the voluntary work by members of the Vietnamese public in combating the disease.
However, the experts affirmed that the situation in Viet Nam as well as other countries in the region remained dangerous and required constant vigilance.
Furthermore, they said, a plan to fight the disease involving the entire population was needed.