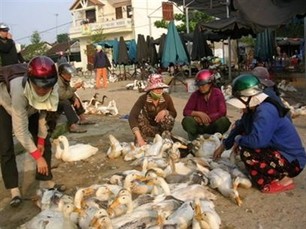 File photo for illustration
The bird flu virus H5N1, which has killed two persons in Vietnam so far this year, holds strong poisonous strength and a high rate of fatality, Director of the National Institute of Hygiene and Epidemiology Nguyen Tran Hien said Sunday.
His warning came out after the virus killed a man and a woman in the Mekong Delta in January.
He added that genetics analysis showed that the gene structure has changed a little but the virus has not been transmitted from people to people yet.
The doctor said the two death cases were not yet a pandemic but a fact is the virus exists in poultry.
A study by the National Institute of Hygiene and Epidemiology shows that the rate of poultry farmers with good health conditions and the antibody against the virus is about 0.4%.
The second bird flu fatality of this year was a 26-year-old woman from the Mekong province of Soc Trang, who died on January 28. The first reported victim was an 18-year-old man in Kien Giang Province, also in the Mekong delta. He raised ducks before his death.