A serious pandemic of the blue-ear disease, affecting pigs, was declared in several communes of Nam Dinh and Phu Tho Provinces by provincial authorities on April 20.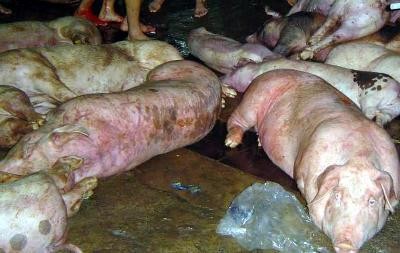 File photo shows diseased pigs discovered in a slaughter
Dang Van Hien, deputy head of the Veterinary Department in Nam Dinh Province said that the blue-ear disease has infected 103 pigs in Y Ten District and Yen Chinh, Yen Phu, Yen Hung and Yen Binh Communes.
In Phu Tho Province, the disease has infected 180 pigs in Thanh Thuy town of Thanh Thuy District and Thach Khoan Commune of Thanh Don District.
Authorities in both the two provinces' have stepped up urgent measures to quarantine off infected areas and sterilise pig-breeding farms. The veterinary departments in the provinces have also banned transport and trading of sick pigs.

Localities have been asked to sterilise infected areas and set up quarantine zones, besides also implementing stricter measures to prevent and eradicate the disease.

According to the Ministry of Agriculture, the blue-ear disease, also known as Porcine Reproductive and Respiratory Syndrome (PRRS), has infected thousands of pigs in the region.

PRRS is caused by the Lelstad virus, which causes pig ears to turn blue, while they also begin to suffer loss of appetite, high fever, have miscarriages or premature delivery, respiratory problems, and die in extreme cases.