The new marrow in Dang Gia Hung, who recently became the first person to receive a bone marrow transplant at Central Paediatrics Hospital in Ha Noi, is starting to produce white blood cells, hospital director Dr. Nguyen Thanh Liem has announced.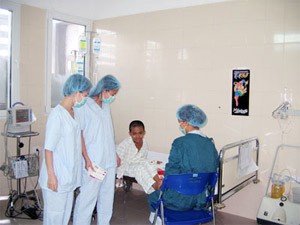 Hung is in the sterilized room before the surgery
Two and a half weeks after receiving his sister's marrow, the seven-year-old's white cell count is 1,300 per microliter and rising.
The normal count in a healthy human is 7,000 and Dr. Liem is confident that Hung's will be the same within three weeks, perhaps two.
What's more, the boy has overcome an arterial embolism in his liver, infection and abdominal bleeding, so doctors can pronounce the transplant a success.
Fortunately the embolism was spotted early and the proper treatment administered in plenty of time.
Among marrow recipients who die soon after a transplant, the proportion dying from an arterial embolism is close to 60%.
Hung still has an elevated temperature but, more good news, a festering sore in his mouth has gone away.

Links:
Swollen liver threatens bone-marrow boy
First Bone Marrow Transplant at Central Paediatrics Hospital