Seven-year-old Dang Gia Hung, who recently became the first person to receive a bone marrow transplant at Central Pediatrics Hospital, is expected to return home by the end of this week.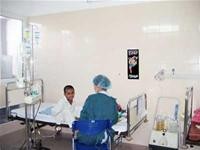 Dang Gia Hung is in the special room before the surgery
On August 10th, in Ha Noi, the doctors were able to successfully conduct the operation with the assistance of their Australian colleagues.
The Vietnamese Health Minister, Tran Thi Trung Chien, paid a visit to the patient in the hospital.
While on sight, she asked the hospital to prepare for organ transplants since the national assembly will officially adopt a new law on human organ donation at the end of 2006.
Links:
Swollen liver threatens bone-marrow boy
First Bone Marrow Transplant at Central Paediatrics Hospital
Bone Marrow Transplant a Success