Vietnamese Ministry of Health yesterday proposed chairpersons of people's committees across the country to increase prevention against Zika virus disease and dengue fever.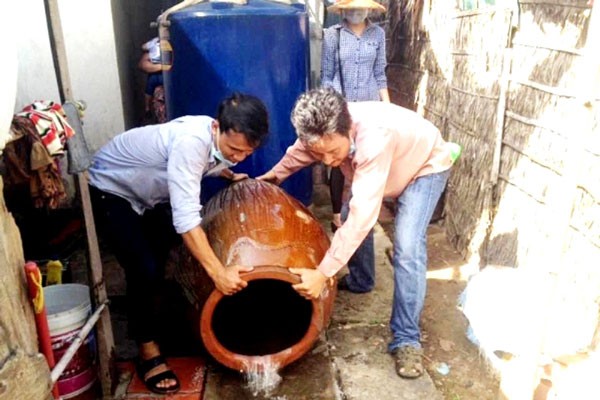 Residents turn over all water storage containers to prevent mosquito laying eggs into (Photo: SGGP)
As per the Ministry's proposal, toactively prevent the two diseases , locality administrations should implement campaigns to kill mosquito and its larva. The campaign calls on households in that areas to adopt a range of mosquito control and prevention measures including changing water in vases and bowls on alternate days, removing water from flower pot plates on alternate days, turning over all water storage containers.
Noticeably, the ministry urged local administrations to find organizations and individuals that do not implement anti-mosquito measure intentionally.
The ministry also ordered medical institutes to closely supervise and early detect infection cases for timely treatment and handling. Additionally, medical facilities must take samples of suspects to send to epidemiology institutes and Pasteur institute for testing.
Furthermore, local governments sprayed chemicals two or three times a week to kill mosquito.
Infirmaries should follow the ministry's instruction to treat patients and minimize death.
Deputy Health Minister Nguyen Thanh Long said the country has three infection cases so far and some foreigners are detected to have Zika virus disease after travelling to some nations including the Southeast Asian countries.

The cases of dengue infection stopped short in recent weeks yet it is rainy season and unpredictable weather are conducive to mosquito breeding to transmit Zika virus disease and dengue; accordingly, the cases of infection will escalate if local administrations don't implement prevention measures determinedly.
As per the World Health Organization's announcement, so far 70 nations and territories  have reported the presence of Zika virus disease and 11 nations reported the transmission between people to people.

Especially, the first case of Zika virus disease in Singapore was announced on August 28 and the country has over 200 cases of infections now.