Canon Corporation gave the gift of US$100,000 in money and medical equipment  to Dr. Tadashi Hattori, President of the South-East Asian Blind Prevention program of the Asia-Pacific association, in appreciation of his love for Viet Nam.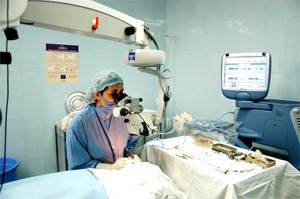 An eye surgery is carried out for the poor (Photo:U.P)
Dr. Hattori's visits have been generous and fruitful as he has dedicated both time and his own money towards fundraising and training for Vietnamese doctors and hospitals.
The doctor has provided over 3,000 free eye operations for poor patients in Viet Nam as part of a blind prevention program for disadvantaged people in some of Viet Nam's poorest provinces.
Dr. Hattori works in Japan but has come to Viet Nam 40 times since 2002.