A large influx of foreigners travelling to Vietnam for healthcare has presented challenges to medical departments.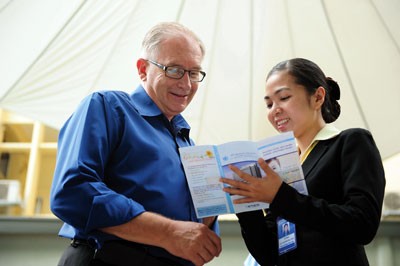 A foreign man is guided in Medicine University Hospital (Phto:SGGP)
Sohphineka from Cambodia came to the Medicine University Hospital in District 5 to treat a chronic transverse colon condition that has received multiple failed treatments in Cambodia. Multiple friends referred her to the hospital.

In 2013, the hospital treated more than 17,000 patients including nearly 1, 000 Cambodian citizens, said Professor Nguyen Hoang Bac, deputy director of the Medicine University Hospital.

The People's Hospital 115 in HCMC receives hundreds of foreign patients annually, said Dr. Nguyen Dinh Phu, the hospital deputy director.
Some cases were cured after failed attempts in treatments in foreign countries.  He recalls a Cambodian man cured of a 12.5-kilogram tumor at the hospital after failed treatments in Thailand and Singapore.

Vietnam is ranked high for successful In-Vitro Fertilization (IVF) operations, said Professor Nguyen Thi Ngoc Phuong, Chairwoman of the Ho Chi Minh City Reproductive Endocrinology and Infertility Association. Many foreigners visit Vietnam to undergo the procedure.

Vietnam has performed IVF cases with a high rate of success. The country is one out of four training centers for reproductive health in Asia, said Professor Phuong.

Vietnam has seen much progress in medical techniques including multi-organ transplants, heart diseases, eye, cosmetic surgeries, dental and endoscopies, according to the Ministry of Health's Treatment and Examination Department. Vietnamese doctors were invited to deliver lecture medical techniques to foreign colleagues.

Nguyen Tri Phuong Hospital in HCMC's District 5 is one of three units in the Southeast Asian that are able to perform arthroscopic surgery. People's Hospital 115 provides training for Cystoscopy to foreign doctors. Medicine University Hospital has a highly-regarded endoscopy training program.
For years, the hospital has transferred techniques to hundreds of Singaporean, Thai, Filipino and Malaysian doctors.

From 2007 to 2013, the hospital has received 850 doctors to study abdominal endoscopy, sinus, joint, urinary tract, and thorax, said Dr. Nguyen Hoang Bac. Cho Ray Hospital has also transferred endoscopy to Thai, Indonesian, Malaysian, Pakistani and Australian physicians for several years.

The Ministry of Health believes local medical units in addition to good performance of advanced techniques should upgrade services and facilities. The Medicine University Hospital has provided additional services such as free interpreting, introduction of hotel, transportation and luxury rooms for rich patients.