At a conference yesterday presided over by the HCMC Health Department, leaders in the healthcare sector from across the country discussed issues centered around overcrowding in children's hospitals.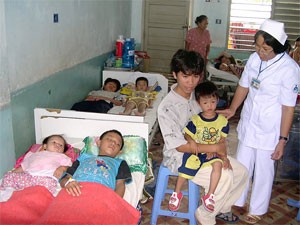 There is no bed left for this little patient
Provincial representatives claimed that hospitals are getting swollen with unmanageable numbers of children.
As a result, quality of treatment cannot be ensured, and healthcare services are deteriorating. Diagnostic errors and improper treatments are also on the rise due to a shortage of experienced doctors.

Most attendants agreed that the Ministry of Health needs to upgrade hospital infrastructure and improve the quality of healthcare services in order to regain the confidence of patients.