Ho Chi Minh City is striving to reduce overloading in hospitals by 75 per cent, as discussed in a meeting on April 8, organised by the City People's Council and HCMC Television.
Hua Ngoc Thuan, Vice Chairman of HCMC People's Committee, said that since 2001, hospitals in the city have improved their quality of treatment, training of personnel, and provided better facilities.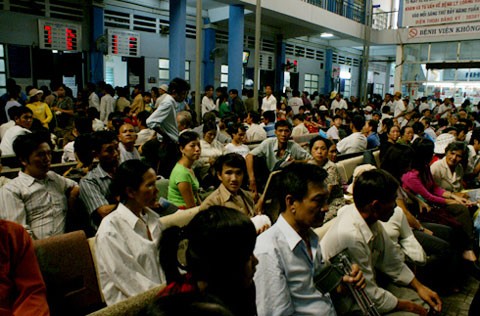 Patients waiting their turn to see doctors at the Trauma and Orthopedic Hospital in HCMC
Thuan added that in 2015, construction of eight hospitals will be complete and they will be in operation, adding 5,000 beds more. Also by then, a family doctor project will be implemented in five districts.
All these measures will help reduce overloading in city hospitals by 70 per cent, said Thuan.
At the meeting, representatives from the Trauma and Orthopedic, Tu   Du Obstetrics, Children and Tumour Hospitals said that there were a few hiccups along the construction of satellite hospitals at the four gateways leading to the city.
As a result, they proposed using district hospitals as satellite hospitals while waiting for the completion of these hospitals at gateway sections. Le Hoang Minh, director of Tumour Hospital, said if district hospitals can be used as satellite hospitals, it will reduce 10 per cent of overload in hospitals.
Meeting participants said investments in public medical clinics and preventative healthcare centres and private hospitals would help reduce pressure off big hospitals.
Agreeing with that idea, Dr. Nguyen Tan Binh, deputy chief of the city Department of Health, said the city is focusing on investments in facilities and personnel for district medical centres.