Managers of district medical clinics are worried about inadequate facilities, which will receive thousands of health-insurance contributors due to new regulations that come into effect July.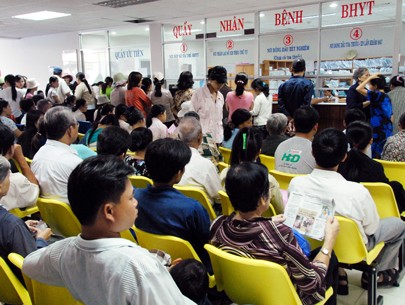 Health insurance holders wait to see doctors at Nhan Dan Gia Dinh hospital in HCM City (Photo: Tuoi tre)
The regulations, created through the new health law, were the subject of debate by the deputy head of the Ho Chi Minh City Social Insurance Office, Nguyen Van Dong.
Under the new health insurance act, health-insurance holders are encouraged to seek treatment at district or provincial hospitals where they registered with the insurance agencies, rather than large hospitals.
According to Mr. Dong, the new regulation is an attempt to reduce pressure on major hospitals. However, the changes will be carried out step-by-step to avoid serious disruption to services.
In addition to carrying out the new law, Mr. Dong said, the Department of Health will petition the city's municipal government to upgrade district clinics and improve health care services. Only when the health sector can meet examination and treatment demands, can patients be transferred from large hospitals to district clinics.
The new regulations also stipulate that the Government will pay for treatment for war veterans and those who helped in the country's resistance, and children under the age of six, added Mr. Dong.
He is concerned that the plan to cover health insurance for the entire population by 2014 is not possible, as there is a severe shortage of personnel in the health sector, and district medical clinics have poor facilities and face other difficulties.
Currently, out of some 3.1 million health insurance holders in Ho Chi Minh City, 1.2 million are registered with general hospitals. Another 1.7 million are registered at district and private hospitals and 160,000 in central hospitals in the city.