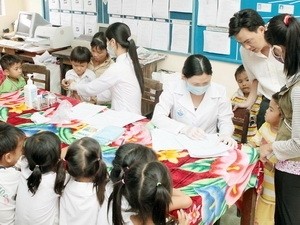 Medical workers examining kids to prevent the spread of hand-foot-mouth disease (Photo: Vietnamplus)
Prime Minister Nguyen Tan Dung has requested all ministries and related agencies speed up efforts in preventing and controlling the spread of hand-foot-mouth disease.
The Government has asked local authorities at all levels to provide accurate and timely information to residents about the disease and how to implement preventive measures, such as cleaning the home and school environments.
According to government statistics, Vietnam recorded about 32,500 cases of hand-foot-mouth disease since the beginning of 2011.

The disease has killed at least 81 people in 17 provinces and cities nationwide, with a concentration in southern provinces. It's particularly hazardous to children under five.
According to the Health Ministry, this year's casualties from hand-foot-mouth disease have been considerably high, and there are no designated medicines or vaccines specifically used to cure it.
However, Health Minister Nguyen Thi Kim Tien said the situation has not been serious enough to declare an "epidemic" in the country.
She said it's critical for local and provincial officials, in cooperating with health officials, to allocate enough resources to prevent its spread. All medical establishments must prepare a sufficient supply of medicines and other equipment for treatment.