14 month old conjoined twins Nguyen Hoang Phi Long and Nguyen Hoang Phi Phung remain in stable condition four  days of after the operation to separate them, said Dr. Truong Quang Dinh, Deputy Director of Children Hospital 2 on November 30.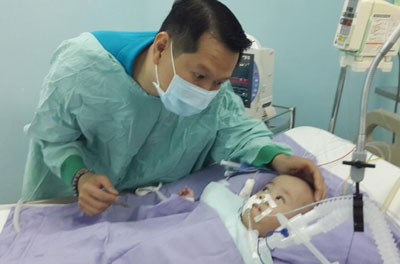 (Photo:SGGP)
Phi Long can drink glucose yet not vomit. He looked up when the doctor called his name. His liver enzyme reduced accordingly doctor had drawn out pericardial drainage tube.
Phi Phung has had man-made tissue for abdominal wall reconstruction and also drunk glucose. Phi Phung in stable condition is a great success of the operation as his health condition before the surgery is not as good as expectation.