The Ministry of Health's official records do not align with actual recorded deaths from measles since December 2013.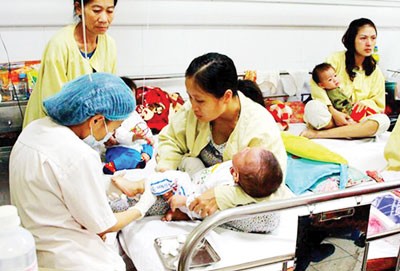 Measles children are being treated in the Central Pediatrics Hospital (Photo: SGGP)
The ministry's records have only 25 deaths whereas the actual records reveal over 100 deaths. The ministry recorded the deaths during Deputy Prime Minister Vu Duc Dam's visit to hospitals nationwide.
Since the beginning of the year, more than 1,200 children were submitted into the Central Pediatrics Hospital in Hanoi for measles, said Professor Le Thanh Hai, hospital director.
Children were forced to share three to a bed due to overcrowding.
The hospital currently has 220 cases suffering from severe complications. These cases are all children under nine months old.
Bach Mai and Saint Paul hospitals are also overcrowded with patients suffering from measles infections.
Due to the prevalence and abnormal development of the disease, the ministry's science council will thoroughly check and find better treatment, said Tran Dac Phu, head of the ministry's Preventive Health Department. Most cases reside in the north. There have been no severe cases in the south.
Health Minister Nguyen Thi Kim Tien visited the Central Pediatrics Hospital on April 16 to observe the situation in areas with most prevalence.
The ministry has not hidden the epidemic because the other 75 deaths were caused by complications due to malnutrition and fetal heart disease, said Tien.
Over 7,000 people are currently carrying the disease. The Central Pediatrics Hospital is experiencing the heaviest hit with the most cases.