Dengue fever and hand-foot-mouth infected cases seem to be on the rise with more than 5,000 reported cases and 8 reported deaths this July alone, according to the Department of Preventive Medicines.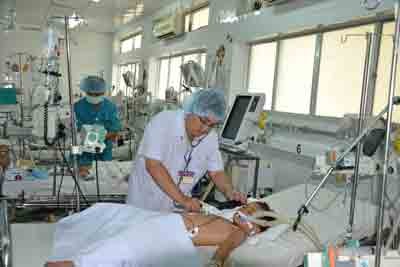 A doctor examining a hand-foot-mouth infected toddler (Photo: T.N)
Since the beginning of this year, approximately 23,000 dengue cases and 22 fatalities have been recorded both in the South as well as the North of the country.
Numbers of hand-foot-mouth cases have also soared. During the month of July, more than 9,700 children reported sick with 21 reported deaths. This has brought the total number of reported cases to 23,350 in 49 provinces and cities across the country, as per Dr. Nguyen Van Binh, chief of the Department of Preventive Medicines.
Majority of the cases were reported in the South of the country particularly in Ho Chi Minh City, though Hanoi too recorded over 200 cases in the last few months at the National Children Hospital.
Tragically, several adults in the northern province of Thanh Hoa and the Mekong delta province of Vinh Long also contracted hand-foot-mouth infection even though it is said to infect mostly children under 10 years of age.