Since the end of last month, the number of dengue fever cases in Ho Chi Minh City has dropped 50 percent compared from September and October when the disease was at its peak, said Deputy Director of the HCMC Preventive Health Center Nguyen Dac Tho yesterday.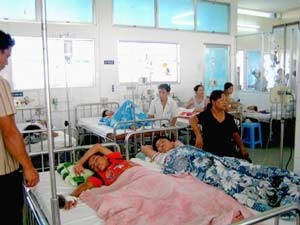 Dengue fever patients in the Children' s Hospital No.1, HCMC

The city's districts of Hoc Mon and Can Gio are the two areas which experienced the sharpest drop in the number of dengue sufferers and no more areas are reporting incidences of the disease.

Dr. Tho said local health officials' efforts and the incoming dry season are the two main factors contributing to the subsiding of the disease.

However, according to the HCMC Preventive Health Center, this year's dengue incidences lingered longer than last year. In 2006, the reports of the disease lasted only to November. But this year, several areas were reporting incidences up until the present.

Factors behind the disease's persistence this year were floods and rising waters which led to a greater mosquito population, one health official said.