An outbreak of acute diarrhea has been complicated by the spread of cholera in Northern provinces, the Ministry of Health said on May 15.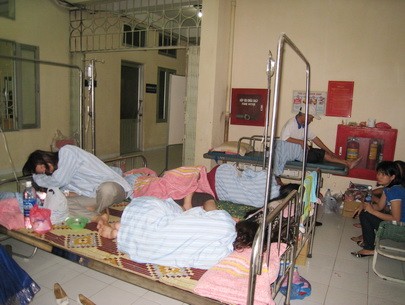 Influx of acute diarrhea patients receive treatment in Hanoi's National Institute of Infectious and Tropical Diseases (Photo: TTO)
Over 60 people were admitted to hospitals with acute diarrhea on May 15, bringing the number of victims to 200, including some testing positive for the virulent vibrio cholera virus.
The ministry said most of the victims are Hanoi residents, with 46 from Dong Da District, 33 in Cau Giay District and 29 in Hai Ba Trung District.
The northern provinces of Quang Ninh and Hai Duong have reported their first cases of acute diarrhea, with one woman and two men receiving treatment.

Eleven cases of acute diarrhea, including four with cholera, have been reported in the northern province of Bac Ninh, 30 kilometers away from Hanoi. Medical workers are worried that the high number of people infected with cholera is pointing to an outbreak.

Three districts in the northern province of Thai Binh have announced seven cases of acute diarrhea, said the director of the province's Preventive Medicine center, Pham Van Diu. Most fell ill after they had eaten fresh vegetables, blood pudding, dog meat and shrimp paste.

As there has been an increase of diarrhea patients in hospitals, the Ho Chi Minh City Department of Health ordered officials to strengthen supervision of water sources in residential areas, foods in markets, roadside eateries and dog restaurants.

Related article:
HCMC suffers from diarrhea outbreak
Dog meat causes cholera outbreak in Hanoi