In a dispatch, Ho Chi Minh City People's Committee asked districts' authorities to implement anti-bird flu measures, tighten their supervision and administer harsh punishments to violations in raising, slaughter and sale of poultry.

Furthermore, the chairmen of district people's committees must take the responsibility for illegal poultry slaughter and trading in their areas.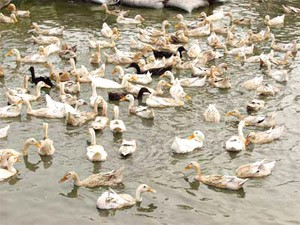 It needs to stop raising ducks in such natural condition
The Department of Animal Health tightens their veterinary inspection at stations. Officials of the department including veterinarians, market management forces and also traffic policemen must work around the clock.

These forces in charge of dealing with the disease undertake these tasks of sterilization of transportation means and continuously check hygienic conditions at slaughter houses, close those establishments not conforming to veterinary sanitation as well as fine sellers of unsafe chicken.

The city committee also requested the market management forces to strengthen their surveillance on waterborne poultry freight and keep a close watch to sellers of living poultry in District 8, Tham Luong Bridge area, Go Vap District and Tan Binh District. Harsh punishment must be imposed to violators.

Market management board pays more attention to sanitation at stalls and culls chicken coming from suspicious sources.

The Health Department intensifies their inspection and promptly discovers cases of bird flu, provides safe chicken meat to consumers and is prepared to fight human pandemic prevention.

Moreover, Dr. Nguyen Huy Nga, head of the Preventive Medicine Department under the Health Ministry, said that the ministry decided to set up a mobile team to provide medical assistance to provinces' preventive medicine centers as well as receive, analyze and keep samples of H5N1 fowls.

Director of Can Tho City's Veterinary Center Nguyen Ba Thanh said Monday the risk of bird flu spreading is very high because many households in the rural raise freshly hatched fowl.

Vaccination is thus quickly carried out for 15-day-old and unvaccinated chicken. It is necessary to stop raising ducks in natural conditions, especially the drive of H5N1-infected fowls from infected areas to others.