Doctors at Binh Dan Hospital in the Mekong Delta Province of An Giang were successful in removing a cystolith stone weighing 950 grams from the bladder of a 59-year-old man.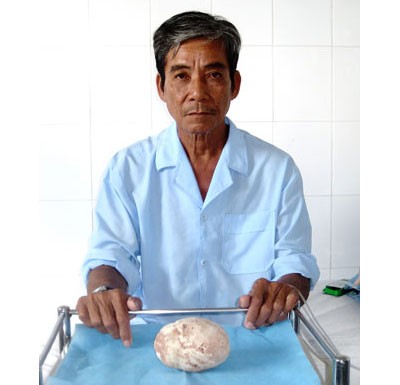 Duc and 950 cystolith removed from his bladder (Photo: SGGP)
Dr. Pham Tan Bay, Director of Binh Dan Hospital said 59-year-old Nguyen Van Duc from Vinh Hoa Village in Vinh Gia Commune of Tri Ton District was hospitalized at the Binh Dan Hospital in Long Xuyen City when he complained of pain in the bladder area that made him pass blood in his urine.

An X-ray test result showed that a large stone was embedded deep in his bladder that was suppressing the urethra.
A surgeon team including Dr. Vu Van Ty from Binh Dan Hospital in Ho Chi Minh City, Dr. Pham Tan Bay and other doctors conducted an hour and a half surgery on him to remove the stone.

Dr. Bay said the cystolith removed from Duc's bladder is the largest he has ever seen during his 30 year medical career.

Duc said that the man had suffered urinary problems for more than 20 years, but due to his poverty, he could not get medical treatment but self-medicated with pain-killers.

Two weeks back, his condition worsened with him passing blood in his urine continuously, so he went to a hospital in Tri Ton District for medical check-up where doctors advised him to go to bigger hospitals in Long Xuyen Province for urgent surgery as he had a very large stone in the bladder.  He could face death if he delayed surgery.

The patient is now recovering from the surgery, said Dr. Pham Tan Bay. He could be discharged from the hospital after eight more days of observation.

Total medical fee for the surgery was at about VND6 million (US$285) but he will receive part remission of the fee due to his impoverished condition.