Cho Ray Hospital in Ho Chi Minh City has hired foreign consultants to teach its medical staff how to communicate with patients and their relatives.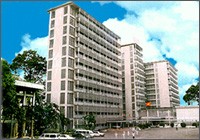 Cho Ray hospital
It's part of a three-year-old program, the first such in Viet Nam, to change staff attitudes and end the chronic indifference and rudeness that doctors and nurses are infamous for.
In that time, Cho Ray's directors have rewarded staff members who treat patients with respect, and punished any miscreants in this regard.
After all, a good bedside manner is known to be effective therapy.
Even a kind tone in the doctor's voice can aid in the treatment, simply by soothing a worried patient. And it does wonders for cooperation.
Nowadays it's more likely to be a doctor that sets up delicate equipment, rather than leaving the technical work to a nurse.
For one thing, it demonstrates a professional attitude and makes patients feel they are in competent hands.
And the language of the medicos is changing, as is the body language, and there's more informality, more smiles, and less of the formal tone from doctors and nurses.
Previously a surgical patient's only verbal contact was with the nurses, whether before or after the operation. Now at Cho Ray, more and more surgeons are putting in a few kind words and allaying any fears the patient might have.
And when the operation is over, the doctor accompanies the patient to the recovery room so as to be on hand should complications arise in the immediate aftermath of surgery.
Cho Ray's director, Dr. Truong Van Viet, was upbeat when asked whether it was necessary to spend money on training staff in the art of communication.
"The previous spontaneous attitude might have produced some good things but the management board wanted more professional training to achieve better and lasting results," Dr. Viet said.
"Because of the requirements of a modern hospital, the 2,500 members of our staff must be 'white angels' who are willing to listen, share and empathize with the patients."
The attitude-changing project is the brainchild of Cho Ray's party committee, board of directors, labor union and Communist Youth Union.
As part of its ceaseless efforts to keep up with the times, Cho Ray has also begun providing nutritious food for patients (rather than leaving them to their own devices, like ordering from the kiosk downstairs), improving hygiene standards, and upgrading the medical skills of its staff.