Vietnamese Health Minister Nguyen Quoc Trieu has ordered a review of the approval process of two cervical cancer drugs.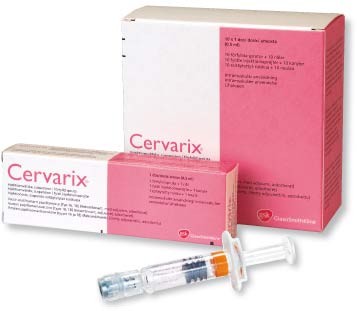 Cervarix HPV drug
Trieu ordered the review in response to rumors that the drugs, manufactured by Merck Sharp & Dohme (MSD) and GlaxosmithKline (GSK), had been approved by deputy health minister Cao Minh Quang after improper lobbying by the drug-makers.
Gardasil, manufactured by pharmaceutical giant MSD, protects against four strains of human papillomavirus (HPV) -- HPV-6, 11, 16, and 18. HPV-16 and HPV-18 account for about 70% of all cervical cancers while HPV-6 and HPV-11 cause about 90% of genital warts.
On July 24, Deputy Health Minister Cao Minh Quang approved the use of Gardasil in Vietnam.
Four months later, on November 18, Mr.Quang approved the use of GSK's Cervarix HPV, which targets HPV-16 and HPV-18. The vaccine is recommended for girls and women aged 10 to 55.
According to the rumors, Mr. Quang wrote in a letter in English that the drug-makers had conducted improper lobbying to persuade the ministry to approve the use of the drugs.
However, the letter also said the drugs had been approved in spite of, not because of, the lobbying.
Some medical experts recommend that Cervarix vaccine be given routinely to females at age 10 to 25 years old. Yet it is allowed for women aged 10 to 55 who were not previously vaccinated.
Around the world, 40 countries have approved the vaccine for females aged 10 to 25 years, while only two nations granted approval for use for the group aged 10 to 55.
Dr. Nguyen Ba Duc, president of the research institute of anti-cancer, said HPV-16 and HPV-18 account for about 80% of all cervical cancers, with the remaining 20% caused by inflammation, tobacco use and sudden mutation.
Mr. Duc said vaccinating girls aged between 10 and 25 was encouraged because they were unlikely to have had sexual intercourse.
He pointed out Gardasil had been approved by the US Food and Drug Administration for girls and women aged 9 to 26, adding the vaccine was less effective if administered to women aged over 26.